Lockdown loving, vaccine pass advocate is now one of the most powerful people in the UK
Roll up, roll up, buy your 2022 Chancellor of the Exchequer calendar. Who wouldn't want to see a different pretty face every month?
Nakedemperor –
In July we had backstabbing Rishi Sunak who resigned in a successful attempt to oust Boris Johnson. Following him came Nadhim Zahawi who promptly joined in with the calls for Boris to quit. After Boris left Kwasi Kwarteng took over the role under the new Prime Minister, Liz Truss. And now we have the Jeremy Hunt in the bottom right.
So why has there been yet another change?
As I have been reporting over the last few weeks, the global financial situation is looking bleak. The UK has been in the firing line with claims that Truss and Kwarteng's mini-budget was spooking the markets. Suddenly the markets cared about a few tax cuts when they had no problem with the endless money printing over the last few years or enormous energy bailout a few weeks earlier.
In reality, the whole financial system is at a tipping point. In the financial crisis of 2007-2008 the can was kicked down the road and the end of the road was 2022. Quantitative easing (printing money) and low to negative interest rates kept the corpse looking alive for a decade but this just meant the money men went looking in riskier and risker places for a return.
Quantitative tightening (removing money) and rising interest rates to try to curb inflation (it won't) meant that these risky investments started going south. Pension funds were about to go bust before the Bank of England stepped in. And remember, pension funds are meant to be safe. They are meant to be regulated. You don't want to get rich, you just want it to pay for you to go on holiday and play golf in your retirement. So if pension funds are about to go bust through risky investments, think what the situation is like in the rest of the financial world.
The pension fund crisis, along with a fall in the Pound and the rise in government bond yields were all blamed on Kwasi's mini-budget. However, most other currencies fell as the Dollar strengthened and bond yields in other countries rose due to inflation fears. Ultimately, the mini-budget was a scape-goat.
The money men and the globalists decided the UK was going to be the first domino. Is this revenge for Brexit? Whatever your position on leaving the EU, it certainly annoyed the globalists and set their plans back a few years.
Yesterday evening, Kwasi left a bankers' meeting in Washington early. He quickly flew back to the UK insisting he's "not going anywhere", which of course meant he was about to be sacked. And, no surprises, today he was dismissed by Liz Truss, making him the second shortest serving post-war Chancellor but only because Iain Macleod died in office.
Kwasi was sacrificed to the globalists on the pretext of a disastrous mini-budget.
As proof that this had nothing to do with his fiscal policies, the pound continued to fall and bond yields continued to rise even after his dismissal. Liz Truss also u-turned on her corporation tax proposal but nothing improved.
So far, that was the good part. Now on to the bad…
Replacing Kwasi is Jeremy Hunt. I couldn't find a good picture of him so I'll have to use this one.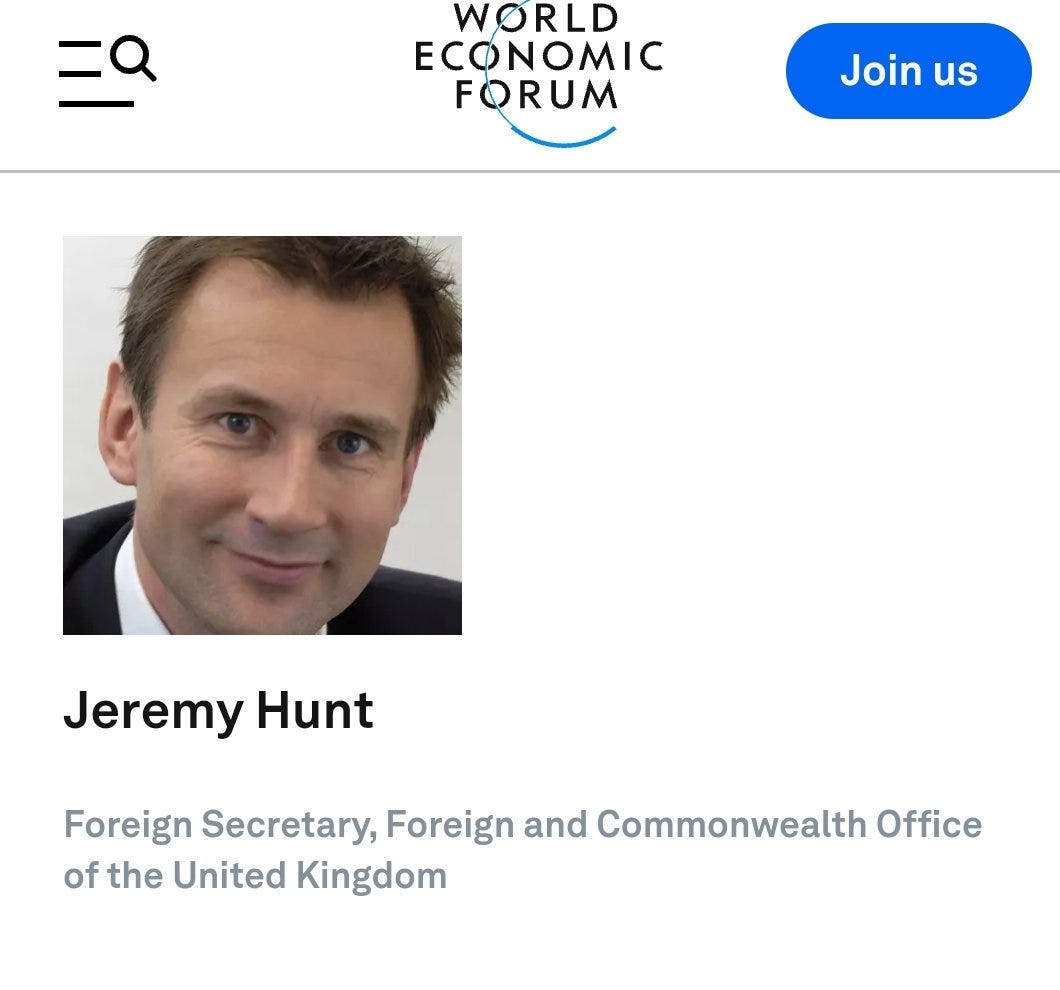 His appointment has nothing to do with tax cuts. In fact, only three months ago he was advocating even harder tax cuts, saying corporation tax should go to 15%, rather than the 19% Kwasi supposedly just lost his job over.
So who is Jeremy Hunt?
Jeremy used to be Health Secretary where he ran the NHS into the ground and did a terrible job. In 2016 he was polled as the most disliked frontline British politician. Even Stephen Hawking spoke up against him saying Hunt had cherry picked research causing a devastating breakdown of trust between the Government and the medical profession.
He campaigned to remain in the EU during the Brexit referendum which probably cost him becoming Prime Minister. In the 2019 Conservative Party leadership, he came second to Boris Johnson, as the Tories wanted to get Brexit over and done with. Mr Hunt was constantly trying to get a second referendum to overturn the first result so this did not go down well with the Conservatives.
The establishment was devastated. He tried again in this year's leadership contest but was quickly knocked out.
But it gets worse.
He is an advocate of the same net zero agenda as Bill Gates.
https://www.youtube-nocookie.com/embed/CZplF4qdwII?start=221s&rel=0&autoplay=0&showinfo=0&enablejsapi=0
He is a supporter of China and his Chinese wife (whom he confuses as Japanese – weird!) regularly appears on China's state run TV that has been accused of 'whitewashing' the Communist Party's human rights abuses.
But worst of all he is a zero Covid advocate and vaccine passport supporter. In fact, he fought hardest for many of the draconian measures to be brought in and to remain.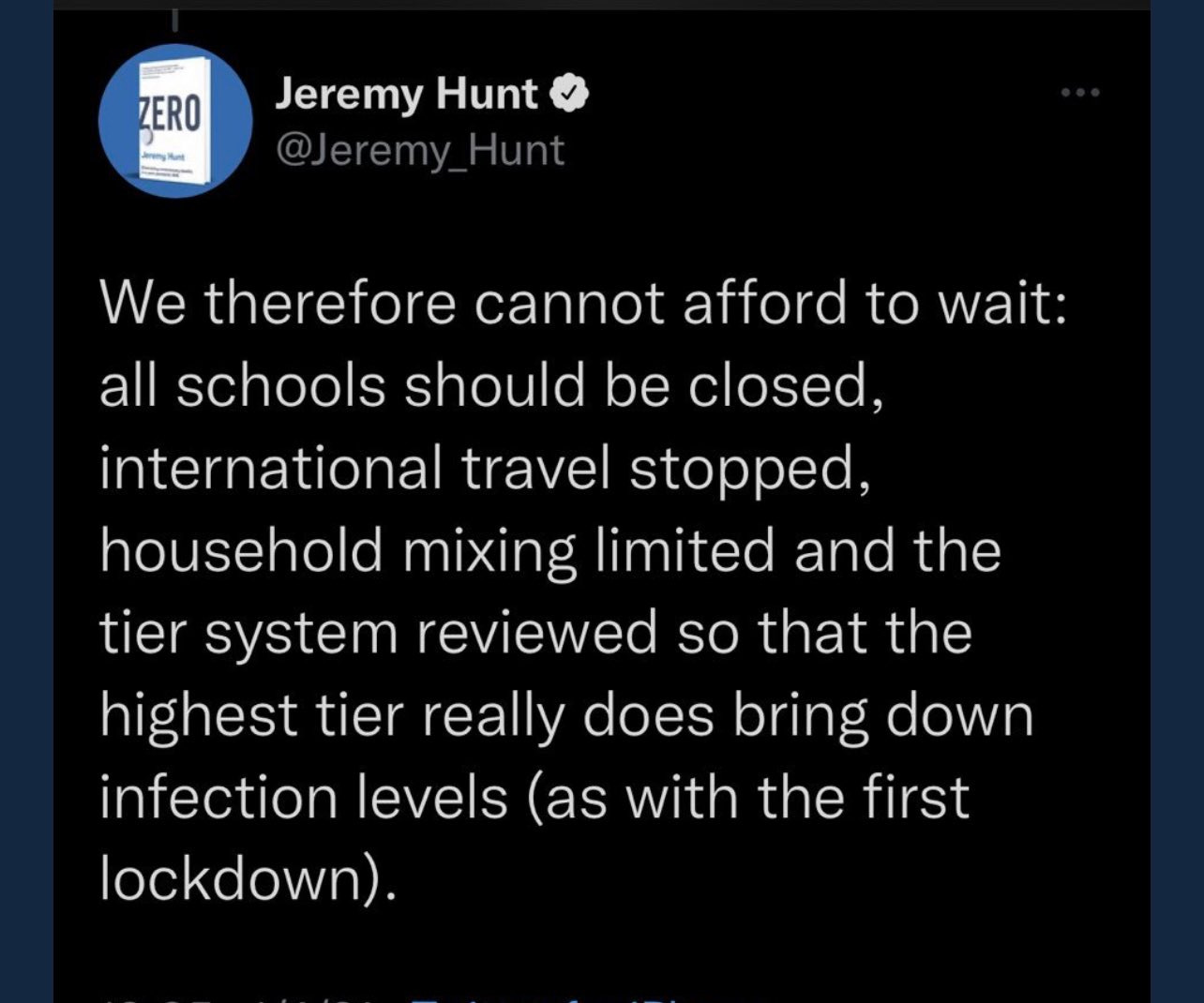 This man called for mandatory vaccination and wanted people to be dragged out of their homes and sent to Covid camps.
Jeremy told the former Culture Secretary "you follow a "zero covid" policy…when someone tests positive, you take them from their home and you take them to an isolation centre and you leave them there."
He openly admired China's Covid response and was co-signatory with Tony Blair on various recommendations from mass testing to vaccine passports.
The man actively worked against the experts (Joint Committee for Vaccinations and Immunisations) to push for children to be vaccinated before safety data was available.
Read More