The Gaurdian
Significant numbers of people around the world believe Covid-19 was created deliberately, has killed far fewer people than reported, or is a hoax and does not actually exist, according to a global survey.
Along with belief in other conspiracy theories – such as that the world is run by a secret cabal – the YouGov-Cambridge Globalism Project, a survey of about 26,000 people in 25 countries designed in collaboration with the Guardian, found widespread and concerning scepticism about vaccine safety.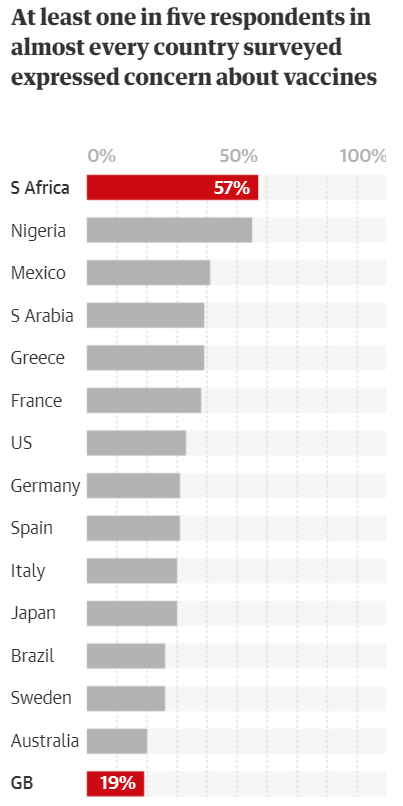 Among the most widely believed Covid conspiracies is that the death rate of the virus, which according to the Johns Hopkins University tracker has so far killed nearly 1.1 million people worldwide, has been "deliberately and greatly exaggerated". Nearly 60% of respondents in Nigeria said this was definitely or probably true, along with more than 40% in Greece, South Africa, Poland and Mexico. About 38% of Americans, 36% of Hungarians, 30% of Italians and 28% of Germans felt the same.
There is evidence the coronavirus pandemic has prompted some people to say they trust experts more, but it has also triggered a wave of disinformation and fake news propagated by science deniers and conspiracy theorists that has spread virally on social networks.https://interactive.guim.co.uk/uploader/embed/2020/10/conspiracy-zip/giv-3902EL4DOcuAMXPS/
"Any scary event – a pandemic, a mass shooting – that denies people a sense of control will lead to a proliferation of conspiracy theories," said Stephan Lewandowsky, a cognitive psychologist at the University of Bristol who is an expert on misinformation.